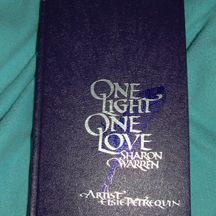 ONE LIGHT ONE LOVE
Add a subheading
This exquisite "Love Inspired" book is a one-of-a-kind "treasure" that makes it the perfect gift for Twin-Flames, lovers, brides, and people-in-love of all ages. It contains 36 inspirational poems printed in purple vegetable ink on lavender recycled, parchment-like paper, calligraphic art prints on rice-paper like pages and Gems of Wisdom. ONE LIGHT ONE LOVE is hand-bound with a purple satin-like ribbon to mark your favorite page.  The book is signed by author Sharon Kay (Warren) and Pacific Northwest - Calligraphic Artist, Elsie (Petrequin) Noble.  ONE LIGHT ONE LOVE, Limited Edition is one of only 500 books in print. The CD, ONE LIGHT ONE LOVE featuring Guitarist, Michael McCabe combined with the lilting vocals of author, Sharon Kay (Warren) is packaged in the back of this beautiful book.   
TO ORDER: $25 + FREE Shipping CALL 989-600-5090
Text or Leave Message (with your Call-Back Number and best time to call) or email to: angels1224@gmail.com
Payment Options: PayPal (989-600-5090), Check or Money Order
COMING SOON!!!!!!!
BELOW are some of the 35 calligraphic art pages contained in ONE LIGHT ONE LOVE. Many of them are printed on a translucent rice-like paper and overlay the poem that inspired them. All Calligraphic Art plates were created by Elsie P. Noble, Calligrapher/Watercolor/Clay Artist - Oregon
.